For those of you who have ever wondered what an $800 phone looks like after being run by a bus, I have an answer for you. Here's the result of my HTC Desire vs a Transperth bus: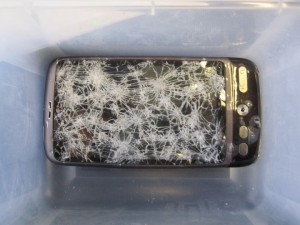 A very expensive lesson in why one shouldn't run to catch the bus. Next time i'll just be late for work and not have to work over a week to pay for a new phone. Telstra were very helpful, by that I mean they tried to convince me the only option was to buy out my near new contract at almost $1000 and start a new contract with a new phone when the handset replacement price is much cheaper.
Feeling much better than I was yesterday morning when this happened now it's replace but it certainly stung my savings account. Apps, widgets and settings all settled in just like my old phone, Viva La Android! On that note, my new favourite app is Rockplayer. I will write a post detailing my fav apps soon.